Faculty profile
Erik Wade
Assistant Professor
---
Contact
317 Marano Campus Center
315.312.2616
erik.wade@oswego.edu
Office hours
Monday, Wednesday, and Friday 1:45-2:45, or by appointment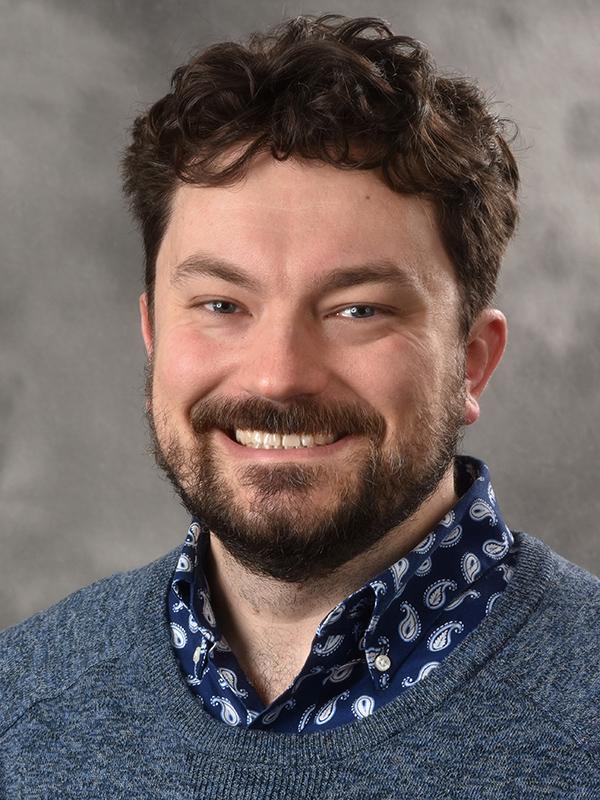 My research interrogates race and sexuality in the medieval world. Dr. Mary Rambaran-Olm and I are writing a book entitled Race in Early Medieval England, under contract with Cambridge University Press. My solo book project, Lust in Translation, considers how the earliest English authors created the idea of a place called "England"—and a people called the "English"—by talking about sex and rape. Official texts from bishops and kings claimed that the English acted with greater sexual morality than other groups, yet non-official English literature betrays their anxiety about their own rape culture.
I'm a CNY native, and I did my undergraduate work at Onondaga Community College and then SUNY Oswego. I received my PhD from Rutgers University and taught at the Rheinische Friedrich-Wilhelms-Universität Bonn in Germany for four years before returning to SUNY Oswego to teach. I sit on the Advisory Board for the journal Exemplaria: Medieval, Early Modern, Theory. I teach courses on medieval and premodern global literature, premodern identity and discrimination, critical theory, medieval travel literature, and medieval ghost stories. I am the current Director of the minor in Medieval and Renaissance Studies (https://catalog.oswego.edu/preview_program.php?catoid=46&poid=5845&retur...).
Publications
MANUSCRIPTS IN PROGRESS
Lust in Translation: Sexuality, Race, and National Identity in Early Medieval English Literature.
 (with Mary Rambaran-Olm) Race in Early Medieval England (Elements series). Cambridge University Press, forthcoming.
ARTICLES
"Reading the Old English Life of Saint Mary of Egypt with Abbot Hadrian of Africa: The Influence of Byzantine Readings of the Song of Songs on Early Medieval England," The Song of Songs Through the Ages: Studies on the Song's Reception History in Different Times, Contexts, and Genres, edited by Annette Schellenberg, De Gruyter, 89-114, 2023. https://www.degruyter.com/document/doi/10.1515/9783110750799-006/html
  "A Story About Beaver Slavery in Arabic, Northern European, and Persian Sources," ANQ: A Quarterly Journal of Short Articles, Notes and Reviews, 1-4, 2023. https://www.tandfonline.com/doi/full/10.1080/0895769X.2023.2195900
(with Mary Rambaran-Olm) "What's in a Name?: The Past and Present Racism in 'Anglo-Saxon' Studies." Yearbook of English Studies, 52, 135-153, 2022. https://muse.jhu.edu/pub/427/article/870586
 "'As Black as They Were Before': The History of Skin Colour and the History of the Holy Rood-Tree." — Early Middle English 4.1, 51-82, 2022. https://muse.jhu.edu/article/857923
  "Skeletons in the Closet: Erasing Queer and Trans Issues in Early Medieval Scholarship." — ELH 89.2, 281-316, 2022. https://muse.jhu.edu/article/856425
 (with Ambereen Dadabhoy), "Debacle over review reveals racism in academy (opinion)." Inside Higher Education (2022) https://www.insidehighered.com/views/2022/06/03/debacle-over-review-reveals-racism-academy-opinion
 (with Mary Rambaran-Olm), "The Many Myths of the Term 'Anglo-Saxon.'" Smithsonian Magazine (2021). https://www.smithsonianmag.com/history/many-myths-term-anglo-saxon-180978169/
 "Representation and Inclusion in the Old English Classroom." — Studies in Medieval and Renaissance Teaching 27.2, 1-21 (2020). 
 "The Birds and the Bedes: Race, Gender, and Sexuality in Bede's In Cantica Canticorum," — postmedieval: a journal of medieval cultural studies 11.4, 425-33 (2020). https://link.springer.com/article/10.1057/s41280-020-00193-6
 "The Beast with Two Backs: Bestiality, Sex Between Men, and Byzantine Theology in the Paenitentiale Theodori." — Journal of Medieval Worlds 2.1, 11-26 (2020) https://online.ucpress.edu/jmw/article/2/1-2/11/110810/The-Beast-with-Two-BacksBestiality-Sex-Between-Men
 "The Pig's Doom: Animal Butchery, Gender Relations, and a New Solution for Durham Proverb 10." — SELIM. Journal of the Spanish Society for Medieval English Language and Literature 25, 187-92 (2020). https://reunido.uniovi.es/index.php/SELIM/article/view/15531
 "Ower Felaws Blake: Blackface, Race, and Muslim Conversion in the Digby Mary Magdalene," Exemplaria 31.1, 22-45 (February 2019). https://www.tandfonline.com/doi/full/10.1080/10412573.2019.1555287
 "Pater Don't Preach: Byzantine Theology, Female Sexuality, and Histories of Global Encounter in the 'English' Paenitentiale Theodori," The Medieval Globe 4.2, 1-29 (November 2018). https://scholarworks.wmich.edu/tmg/vol4/iss2/2/
 "Language, Letters, and Augustinian Origins in the Old English Poetic Solomon and Saturn I," The Journal of English and Germanic Philology, 117.2, 160-184 (April 2018). https://muse.jhu.edu/article/690390
Education
PhD., English, Rutgers University (2018)
M.A., English, University of Oregon (2011)
B.A., English and History, Minor in Medieval and Renaissance Studies, SUNY Oswego (2009)
A.A., Humanities, Onondaga Community College (2007)
Classes taught
FALL 2023 COURSES
Literary Criticism
Shakespeare: An Introduction
Sophomore Seminar in Genre: Medieval Ghost Stories
SPRING 2023 COURSES
Literary Criticism
Medieval Literature
FALL 2022 COURSES
Literary Criticism
Shakespeare: An Introduction
Sophomore Seminar: Studies in Genre