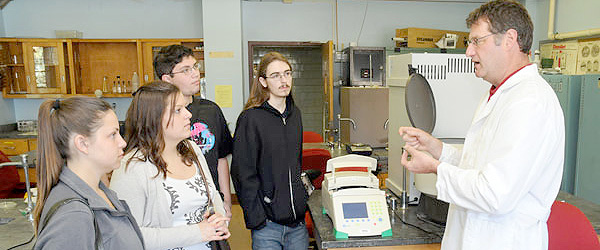 SUNY Oswego's Possibility Scholars program  (674 KB PDF) aims to help students from New York State who otherwise would not be able to afford pursuing degrees in science and technology fields.  The program provides support for tuition, room and board, mandatory fees as well as hands-on research and international service learning.
Through the generosity of our leading donors, SUNY Oswego will deliver meaningful personal and financial assistance to students who face significant barriers to attending college.  This scholarship program will transform the lives of student scholars and set them on a trajectory that can meet both their individual achievement goals and humanity's need for knowledge to conquer pressing global challenges.
Deadline:
Students who have completed their application for admission by January 1 are assured equal consideration during the admission and scholarship process. Since Possibility Scholars must demonstrate both high academic achievement and financial need, priority will be given to those students who are offered admission and have filed for financial aid (using the Free Application for Federal Student Aid- www.FAFSA.gov) by February 15. Possibility Scholarships are offered during the first two weeks of March.