Bake offs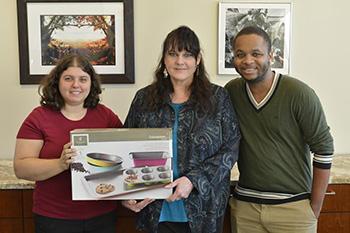 Winners of the 2016 SEFA Bake Offs
                                             Left to Right: Sharona Ginsburg, Susan Drobar and Myles Clendenin

Thanks to all our bakers and taste testers!  Your efforts brought in $672.35 toward the annual campaign!  SWEET!!!
Fall 2017 SEFA/United Way Bake Off ResultsEvent
Marano Bake Off

Bldg. 20, Marano, King, Lee, Rich, Sheldon, Walker, Park, Rich, Shineman & Wilber

$144.35
1st Place Winner:
Stephanie Guynn - Not Your Mama's 7 Layer Bars
2nd Place Winner:
Shelly Sloan - Mint Chocolate Cookies
3rd Place Winner:
Susan Drobar - Apricot Squares
Culkin Bake Off

Bldg. 12, Culkin, Laker, Pathfinder & Rice Creek

$312.00
1st Place Winner:
Kelli Ariel - Chocolate Raspberry Bites
2nd Place Winner:
Angela Galvin - Peanut Butter Bon Bons
3rd Place Winner:
Jodi Cary - Original Tollhouse Pan
Mahar Bake Off

Hewitt Union, Lanigan, Mahar, Penfield & Tyler

$216.00
1st Place Winner:
Allison Rank - Nutella Brownies
2nd Place Winner:
Sharona Ginsberg - Pumpkin Cheese Bread
3rd Place Winner:
Mark Ladd - Carmel Corn
Special thanks to our building event chairs: Shelly Sloan, Cathy Johnston, & Laura Brown!