United Way salutes SEFA/SUNY Oswego
The United Way of Greater Oswego County presented SEFA (State Employee Federated Appeal)/SUNY Oswego with the Leadership and Commitment Award at the United Way's Annual Meeting and Salute to Volunteers held March 13, 2013 at the American Foundry in Oswego. The award is presented to a company or organization that are leaders in educating their employees on the needs of the community, inspiring them to support the local United Way.
"United Way of Greater Oswego County has benefited greatly from the selfless giving of the many community-minded individuals who are members of SEFA. SEFA and the team of Howard Gordon and Christy Huynh did an excellent jobe of sharing our mission with their fellow employees, and hosting numerous fundraising events. SEFA has a proven record of dependable partnership with United Way and it's efforts are an outstanding example of caring individuals who truly realize that it is their community and do take it personal!" said Melanie Trexler, Executive Director of the United Way of Greater Oswego County.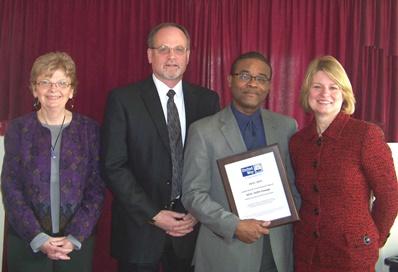 Photo courtesy of John DeRousie, Custom Marketing Solutions
Photo from left: Kathy Fenlon, President of the United Way Board of Directors, Executive Director, Oswego City/County Youth Bureau, Terry Syrell, of CENG, Howard Gordon representing SEFA/SUNY Oswego, Melanie Trexler, Executive Director of the United Way of Greater Oswego County