Laker Dining Dollars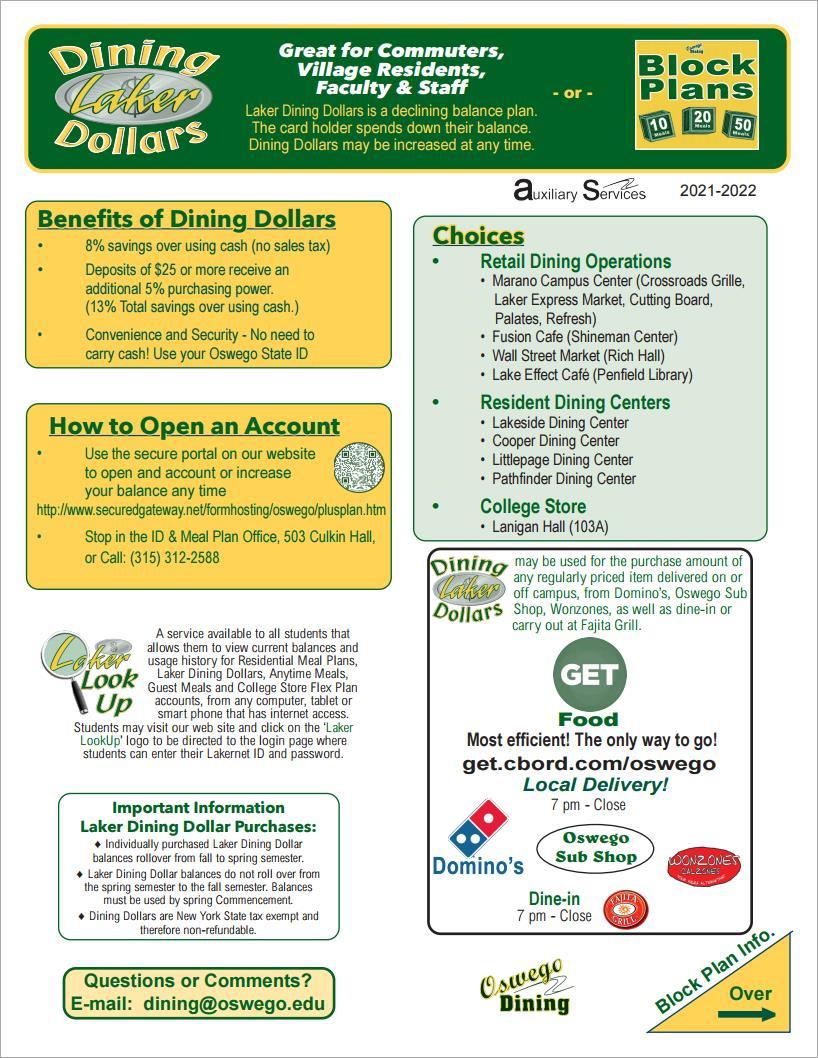 Laker Dining Dollars is a declining balance account that can be used in the Retail Dining locations and to order food for delivery from off campus vendors via GETFOOD.
Students, Faculty and Staff can Add Laker Dining Dollars online with a credit card.
Benefits of Laker Dining Dollars
Immediate 5 percent bonus added to all deposits $25 and higher and no 8 percent sales tax!
That is a total potential savings of 13 percent!
Convenience and security.
Your SUNY Oswego photo ID accesses your plan. No more fumbling for cash while juggling food.
Just present your photo ID and your purchase will be deducted from your balance.
Accounts opened with as little as $10.
ID & Meal Plan Services Office accepts cash, credit cards or check deposits Mon-Thur, 8 am - 6:30 pm and Fri 8 am - 4:30 pm all semester.
Flexibility. 
Laker Dining Dollars is built in to all residential meal plans.
Choices.
Choose from our on campus Retail Dining locations.

 "Order dinner from the "Laker Hub" at Cooper via GET Food Sunday through Thursday 4pm-7pm.  Enjoy your meal dine in or take away.  A meal (up to $12) will be deducted from your meal plan, the balance of any meal over $12 will be deducted from your Laker Dining Dollars"

Order Dominos Pizza, and Oswego Sub Shop  via GET Food and have it delivered to your on or off campus address.
Fajita Grill accepts Laker Dining Dollars via GET Food for dining in or take out at their store.
Off-campus students
The Laker Dining Dollars is perfect for you! You don't have to eat ramen noodles and macaroni & cheese just because you live off campus. Have a look in our fridge for a real meal.
Notes: Unused Laker Dining Dollars dollars rollover from fall semester to spring semester only. There is no rollover from spring semester to summer or fall semesters. Unused dollars are not refundable. No alcohol may be purchased with Laker Dining Dollars.