Students are encouraged to apply for scholarships offered through the Oswego College Foundation for next academic year before the Feb. 6 application deadline.
More than 675 scholarships and awards will be granted through the Foundation for the year.
Students can simply go online to alumni.oswego.edu/scholarships and complete a general application. The online system will then match applicants to scholarships for which they pre-qualify.
Scholarship winners attest to how these funds support their students and campus involvement. Yadi Aranda Burgos, a very involved double major in criminal justice and human development, has received support from the Hubert Smith Diversity Fellowship, Eugenio Maria De Hostos Scholarship and the McMahon Family Scholarship.
"These scholarships help me financially because as a student as well as an adult, I am not always given the opportunity to work full time and get the money necessary to live off of," Burgos said.
"When in school I try my best to focus on my studies and find other ways to get a source of income," Burgos added. "These scholarships also help me feel accomplished and rewarded for the hard work I have been putting in in the last 3 1/2 years I've been at Oswego. I hope that these accomplishments show my future employers that I am hardworking and when I put my mind to something I try my hardest to accomplish it."
The scholarships have allowed Burgos to serve the campus and work on behalf of fellow students in many ways, including on the ALANA Advisory Group; as treasurer for Alpha Phi Omega; director of finances for The Women's Center; an open house intern for the Admissions Office; Advisement Guide for the Advisement Center; graphic designer for the Latino Student Union; social and special events coordinator for the Student Association Program Board; senior advisor for The Caribbean Student Association; a student office assistant for the New Student Orientation; and treasurer and director of correspondence for Two and a Half.
A recipient of the Tom Winiarski '91 Scholarship, Michael Jean is able to get the most out of his studies as well as find fulfillment as a member of the Ritmo dance team, Gospel Choir, WTOP and WNYO, and a resident assistant.

"Being the firstborn to my Haitian immigrant parents, I can tell you that they went through so much to make sure that I, as well as my siblings, get the most opportunities here in the U.S.," the first-generation broadcasting and mass communication major said. "My parents immigrated to the United States because there were not many opportunities in Haiti. Access to education was limited as were work opportunities. Uprooting themselves and moving to the States in 1999, leaving friends and family and all they knew behind, was hard for them, but they knew it was the only way for a better life."
His parents always found ways to support him, and while they worked hard and at first turned to loans to cover educational expenses, "everything turned around when I learned about the Oswego College Foundation scholarship opportunities," he noted.

Scholarships reduce what students' out of pocket expenses and loan burden, helping them focus more on classes and making the most of college. And while that assistance is important, Michael said the support is about more than money.
"They make us feel that someone believes in us and that all of our hard work is being noticed, so they push us harder to stay motivated and keep reaching for the stars, even when those stars seem light-years away," he said.

"Being a student can be hard, and being a student during a pandemic, even harder. Honestly, if it wasn't for the scholarship support I received and knowing others believed in me, I'm not sure I would still be a student here. There was a time when I really struggled while here, but my scholarships motivated me to keep moving forward and I'm really grateful for them and for my donors."
Anybody interested in learning more about financially supporting scholarships for SUNY Oswego students can visit the Giving website.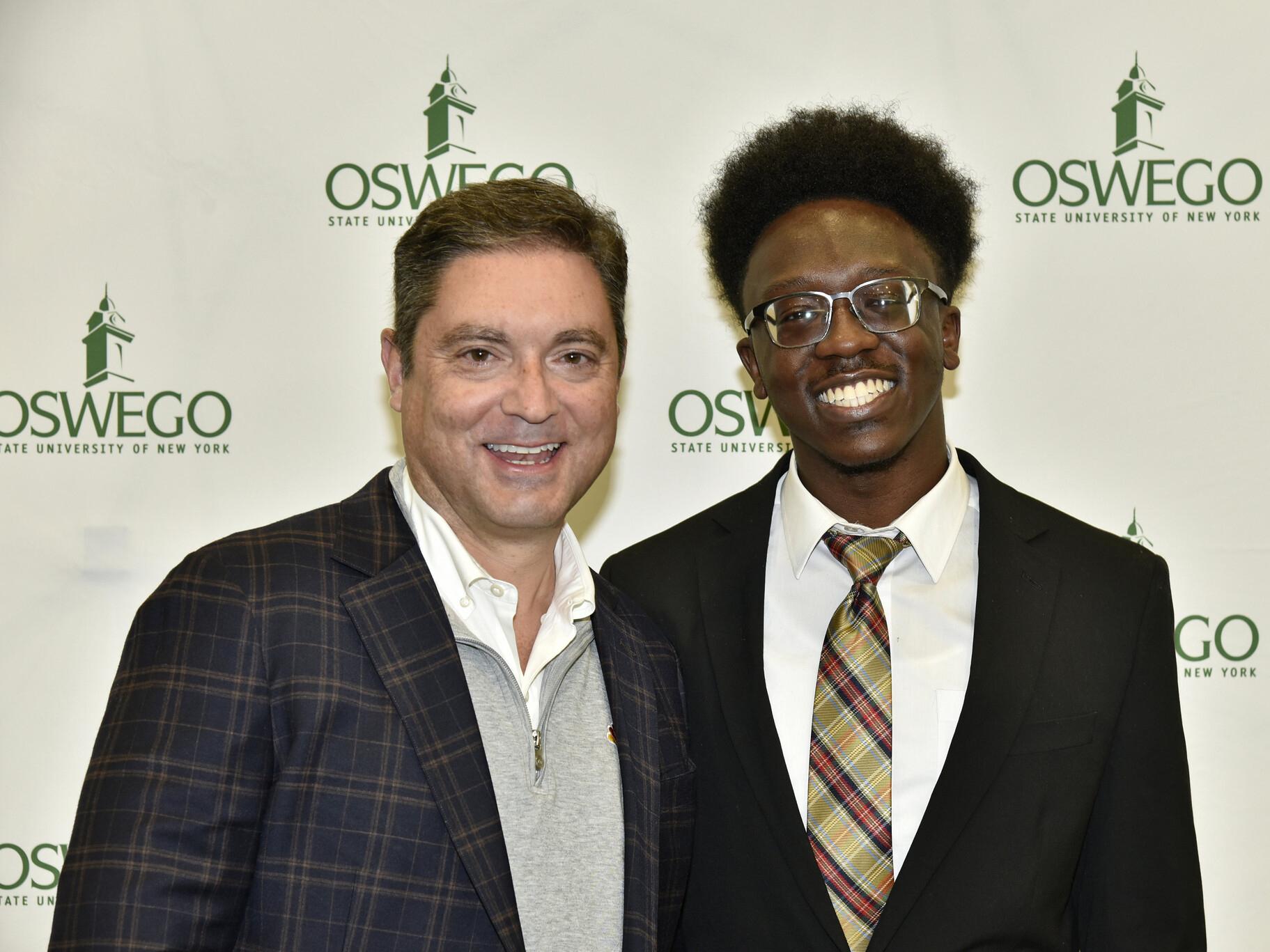 A recipient of the Tom Winiarski '91 Scholarship, Michael Jean, is shown with Winiarski, the namesake donor. 
Facebook comments