SUNY Oswego senior graphic design major and entrepreneur Bobbierre "Bobbie" Heard's creativity, ability to overcome obstacles and willingness to help others recently earned her a community Unsung Hero Award, presented Jan. 31 by Syracuse University.
Born premature at 26 weeks and 1 pound, 2 ounces, Heard said the doctor told her mother the baby was unlikely to survive. So the fact that Heard not only survived but thrived in starting and running her own clothing company, with a winning positive attitude, has made her an inspiration to many.
The founder or BREKY clothing, Heard was praised as "a ground-breaking graphic designer and a dynamic advocate for programs serving children with disabilities" in the award release. Her premature birth led to cerebral palsy and she experiences seizures, which drives Heard to advocate for inclusivity for others, mainly children. 
Her work with Upstate Golisano Children's Hospital led to six children of differing abilities being able to participate in winter adaptive sports activities. She continues to raise funds to help children receive adaptive sports equipment and experiences in schools around the area.
Heard was surprised by the award but pleased that it recognizes all the work she puts into her business and supporting others.
"I  feel like a lot of people don't really see a lot of the things that I do behind the scenes," Heard said. "They see the clothes initially and the brand, but they don't really see all the hard work that I put into it."
The event was virtual this year -- Heard said she "would have been nervous" speaking to a formal dinner with thousands of people -- but that does not diminish her award or her continuing drive to create and support causes.
"Her life, career and commitment to adaptive sports are a testament to what one can achieve amidst adversity. In a world that was not designed to foster her success, as a result of racism, patriarchy, homophobia and ableism, Bobbie persisted," said award nominator Kishi Animashaun Ducre, associate dean of diversity, equity and inclusion and associate professor of African American studies in Syracuse University's College of Arts and Sciences.
BREKY breakthrough
Heard launched her clothing line BREKY (Being Real Extraordinary Kool Youth) in 2015 and partnered with Upstate Golisano Children's Hospital to create an adaptive program for children with disabilities in 2018.
"I have an adaptive sports project for kids with disabilities, that they sponsor where I do a weeklong winter sports event for kids around Central New York," Heard said. "In high school, a lot of the kids who had disabilities weren't allowed to be in gym classes because schools didn't have the equipment to be able to integrate them." 
Heard's business came from her passion for design and creating clothing. "I always had a high interest in fashion, I knew what I wanted to do, but I didn't really know how to go about it, so I would just draw in a sketchbook," Heard said.
In high school, she found a mentor in Paul Schoeneck Jr., who owns a Syracuse-based company called Kickz Clothing. The company is known for being able to take an action photo, generally a sports photo, and turning it into a custom logo for a T-shirt or other clothing, and Schoeneck let Heard watch how he ran the business.
One day, she finally showed him her sketchbook, and he was immediately impressed. "He said he had honestly never seen somebody put all their thoughts and feelings into a drawing like that," she recalled. "And I told him I don't just want it to be on paper, I want people to wear it."
Heard said her seizures sometimes create inspirational moments, as when they stop, she will draw a design based on what she saw during it. 
"Sometimes when I'm having seizures, it's almost like I'm like Alice in Wonderland -- the types of things I see, and I just sketch it and it ends up being on a T-shirt or a hoodie," she explained.
Heard had her heart set on Oswego's graphic design program since her sophomore year of high school. When she started having more seizures during her senior year in high school, her mother wanted her to start school closer to home. She went to SUNY Morrisville, where she earned an associate's degree in business that will complement her bachelor of fine arts degree in Oswego in graphic design.
Her studies mean she isn't putting as much time into the business as she otherwise would but she remains in demand, just recently doing an order from a company for 30 long-sleeve T-shirts.
Heard's work is literally hands-on, using a manual screenprinter with a vinyl cutter and a heat press.
"I like to be more hands-on because a lot of my designs are so personal, and it gives me more of a personal connection to be able to watch it be built from start to finish," she noted.
The first-generation college student also enjoys how hands-on the lab experiences are at SUNY Oswego and offered praise for her professors. Heard's favorites include Liz Hunt -- "I like her, as an artist as a whole, the way she is so versatile with different media, and the things she does digitally are amazing" -- and Kelly Roe, who "has been such a great advocate, and is always willing to lend a helping hand."
Heard also had very special thanks for art faculty member Suzanne Beason because she "helped create a sense of balance when school and life was just crazy" and for always listening and explaining in a helpful manner.
While Heard's future plans include working for Under Armour, she is currently focused on finishing up school, and the here and now. It's an approach that has worked well for her.
"When you were born in a situation like I was, a lot of people don't expect you to achieve even average or half the things I did," she said. "I want to be an example of when people tell you that you can't do something, you really can."
>> In addition, check out this Spectrum News story on Bobbie's accomplishments.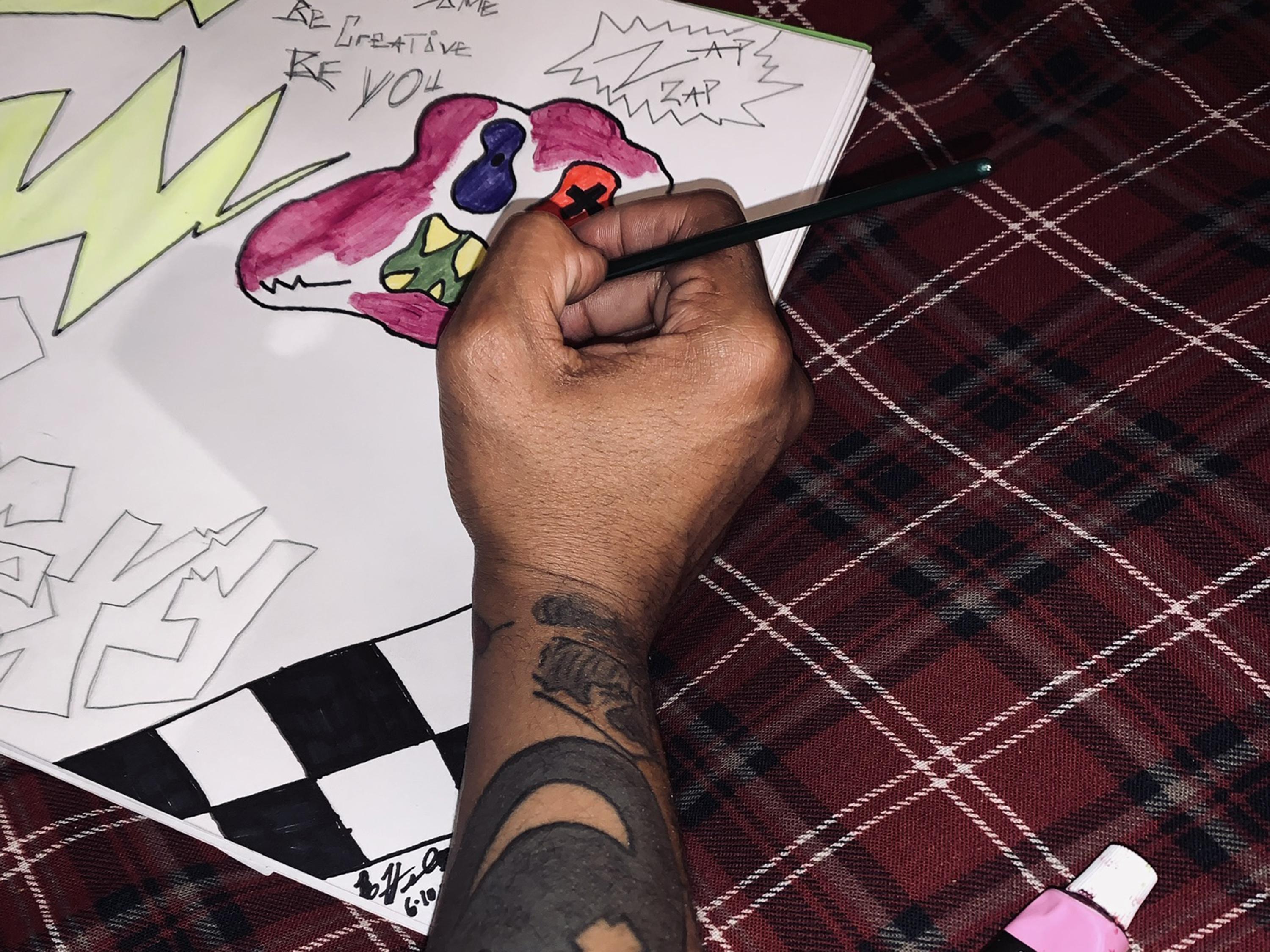 Facebook comments