Starting with a handful of Oswego students heading overseas on Jan. 2, the college has followed a long road back to education abroad –- which is expected to return to nearly full activity for summer and fall 2022.
Before the pandemic hit, SUNY Oswego was ranked among the top master's institutions for study-abroad programs by the Institute for International Education, sending 414 students abroad in partner programs, faculty-led courses and more for the 2019-20 period.
While obvious obstacles existed –- for institutional planning and, moreover, student opportunities –- the Office of International Education and Programs have been doing everything they can to pave the way for students to return to exploring the world.
The first SUNY education abroad participants leaving the country in nearly two years began the process of turning the corner and opening up opportunities –- safely –- for students to benefit from exploring the world. 
For the spring semester, Oswego-coordinated programs have two dozen students studying abroad, including four SUNY Oswego students in countries including France, Korea and Spain. The road ahead will see the return of 30 programs to 12 countries for summer and fall, including six faculty-led programs from Oswego professors in art, biological sciences, communication, global and international studies, and health promotion and wellness.
"Our students are awesome," said Jessica Hernandez, the college's study-abroad coordinator. "They have really persevered and found a way to make it happen. I'm really proud of them." 
Joshua McKeown, the associate provost for international education and programs, said Oswego continues to serve as an example for studying abroad, thanks to the robust support of college administration and faculty members.
"We have over 40 students signed up for faculty-led programs abroad this summer, with so many wonderful ideas that we're looking forward to implementing. They will offer tremendous student opportunities," McKeown said.
While his team has worked on filling the gap with virtual international study and internship opportunities thanks to some valuable partners, travel and becoming immersed in another culture is irreplaceable, he noted.
"Students pursuing education abroad get a global experience where maybe they can try things and learn things they couldn't do otherwise," McKeown said. "Research shows that a tremendous amount of personal growth and openness can take place through studying abroad."
South Korea is where two Oswego students –- Favoured-Joy Oghenekome and Molly Bogart –- are studying this semester. "Student interest in Asia is booming right now," McKeown explained. 
Exploring culture
"I discovered Korean culture through its entertainment industry," said Oghenekome. "I started watching K-dramas and listening to Korean music of various genres. I became interested in learning how they live their lives realistically and how their cultural structure functions. I also found myself wanting to learn the language, which I am currently in the process of self-teaching."
As a global studies major, Oghenekome said studying abroad is among the requirements, and the opportunity to fulfill it while learning about a culture she was interested in was a long-awaited journey.
"I was greatly concerned about cancellations until I landed in Korea," Oghenekome said. "It was a stressful situation as I was supposed to travel to Korea in 2020 but then the pandemic hit. Reliving that process of applying for a program, getting a visa and buying a flight ticket, still plagued by uncertainty, was definitely mentally exhausting. However, I had great support from the Office of International Education. I was updated often on government and SUNY regulations regarding travel."
Bogart, a linguistics major studying at Kyungpook National University, faced her own challenges all the way to being able to make the flight –- including a positive test for a mild case of COVID a little more than two weeks before departure –- which made finally being able to go feel like a miracle.
In addition to her own preparations, Bogart knows the Office of International Education and Programs worked hard to make it happen. "I know that there was a lot of behind-the-scenes work done to push for students to have the opportunity to study abroad," Bogart said. "If not for them and their persistence I wouldn't be able to study abroad at all during my time in university since this semester was my last opportunity."
Once they had the opportunity to start their international studies, they both have found the experience really valuable.
"I came here all alone but I joined a group chat for exchange students at my exchange university, Hankuk University of Foreign Studies," Oghenekome said. "I still worried that I wouldn't be able to connect with them but I got lucky and I've made amazing friends. It's amazing to see my network expand so vastly. I've met people from many parts of the world that I wouldn't usually think about. Now I can say that I have friends on almost every continent."
Bogart similarly has found other exchange students with whom to explore. "I would say that spending time with friends in any way possible has been my favorite part," Bogart noted. "It's been nice being able to have someone to explore Korea and Korean culture with. I'd definitely say that my favorite part has been the cross-cultural experiences I've had."
'Hope for the future'
"It's just beautiful when I hang out with my friends and we're all from different countries but yet we get along seamlessly," Oghenekome said. "It inspires hope for our future." 
The students now in Korea also hope many others can follow in their footsteps.
"I would say not to let something like the pandemic, finances, or academics stop you from pursuing study abroad," Bogart said. "Where there's a will, there's a way!" 
She added that the International Education Office is great at calming any fears and answering questions students have, but added that students should study the culture of the place they are visiting. 
"I also strongly encourage students to really do their homework before choosing a country because the cultural standards of the nation you choose might not be like the United States," Bogart said. The office "reminds us that we are meant to be unofficial ambassadors of the United States" and added that, in addition to their help, "my family, friends and personal interests have given me the proper tools to make this semester a success," she said.
"I sincerely hope that other students take this opportunity and make the most out of it," Oghenekome said. "College is a chance to enjoy traveling abroad. It is definitely cheaper than going on your own later in the future. As a student, you get the chance to attend classes and relate with peers in a more comfortable environment, learning from others' perspectives. You get to learn how college kids in a different part of the world have fun too."
Oghenekome also noted the importance of getting out of your comfort zone while keeping some boundaries.
"Don't restrict yourself to a bubble of people, talk to strangers, you'll be surprised how much you can learn from them but always do so in a safe setting," Oghenekome said. "Studying abroad increases employability as students learn transferable skills such as independence, foresight, flexibility, communication and tolerance among many others."
For more information on opportunities available, visit the Education Abroad website.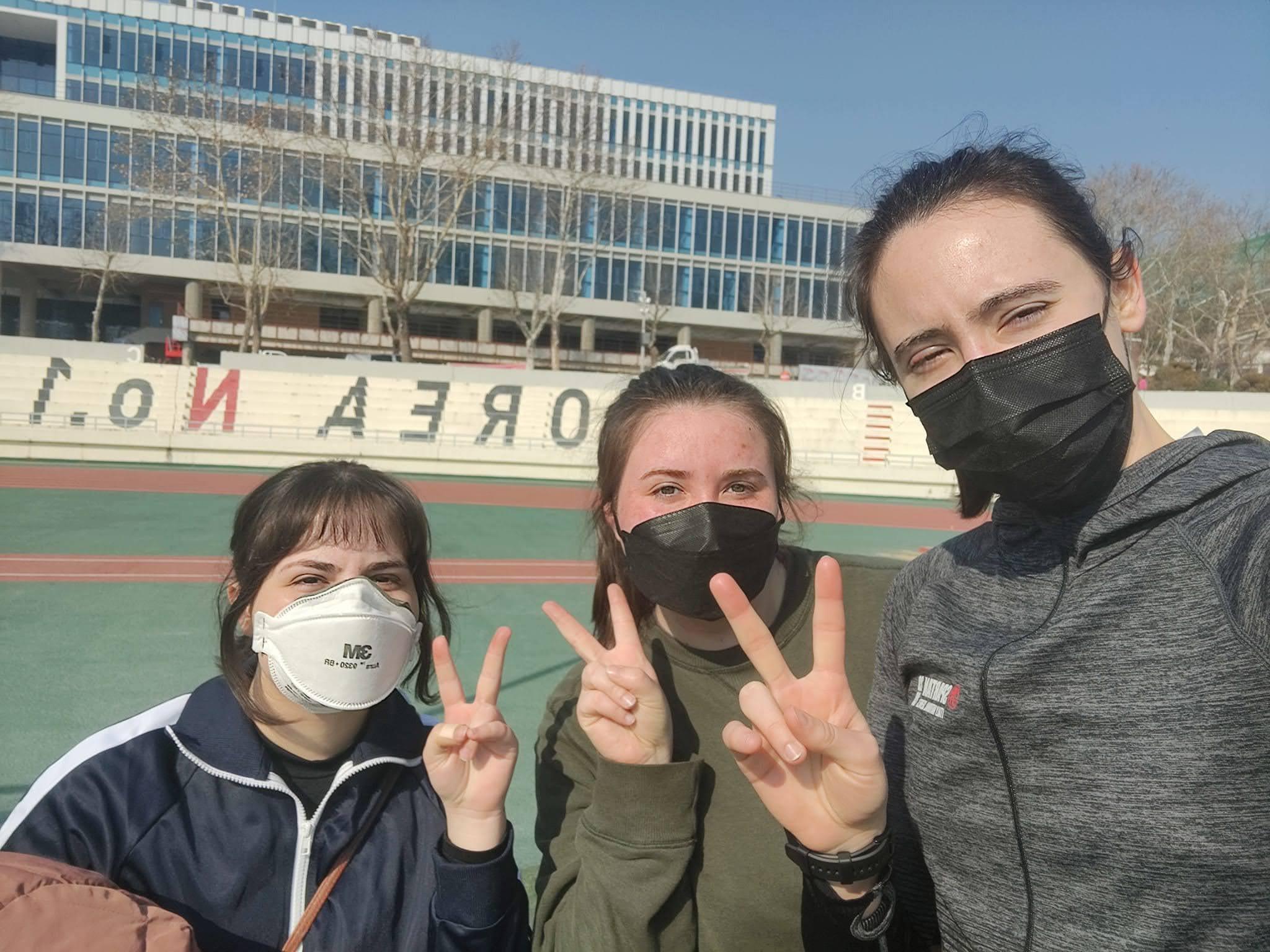 Oswego student Molly Bogart (center) explores Korea with some new friends.
Facebook comments