SUNY Oswego wellness management major Fadi Gaye was recently one of 45 students in SUNY's Educational Opportunity Program (EOP) to receive the statewide Norman R. McConney Jr. Award for Student Excellence, recognizing ability to overcome obstacles to achieve success.
"Despite the odds, Ms. Gaye exceeds the qualifications of this award and truly embodies the resilient grit necessary to be a trailblazer," Grace Maxon-Clarke, academic planning counselor for Oswego's EOP office wrote in the nomination. "Ms. Gaye was chosen because her story is a compilation of overcoming barriers and obstacles, achieving excellence and unparalleled service to others. Her story embodies the spirit of our EOP student population as well as reflects on the service and strength of the esteemed Norman R. McConney."
Preparing to become a physician assistant, Gaye was somewhat surprised to receive the award because she thinks of all of her volunteer activities as something people should do, Gaye said. 
"It doesn't seem like a lot as I'm doing it because I feel like as a student or just as a human being, I'm being responsible for trying to make a change in the world and to trying to make an impact in the lives of other individuals," Gaye said. "I feel like it's my duty to do that. It's my purpose."
Raised in a family of Muslim immigrants from Senegal in Africa, Gaye "learned at a young age that being seen as a minority in NYC led to other discriminating factors particularly with health care," Maxon-Clarke noted. "As the primary translator for her family, her childhood was full of appointments and meetings with her parents to understand her siblings' healthcare needs."
Gaye is now a diversity study-abroad mentor in the college's Office of International Education and Programs, where she encourages other students, especially traditionally underrepresented students, to explore options that can help them learn beyond borders.
Her own study-abroad experience in a School of Education program that took her to Benin in West Africa, as well as Paris, showed that injustices impacting minorities in healthcare systems "are a worldwide crisis," Maxon-Clarke wrote. "The ramifications of feeling neglected by healthcare professionals has led to people in her community having a stigma of seeking medical attention when needed. As a physician assistant, Ms. Gaye hopes to have the right resources to make a change in her community and help be the change of this cycle."
Gaye has volunteered in Oswego Hospital as well as Mt. Sinai St. Luke's in New York City, in direct patient care as she looks forward to a career helping others. She recently applied to SUNY Downstate Medical Center -- where she has been an intern with the Office of Diversity Education and Research -- and City College with the hope that, after graduating from one of these programs in two years, "I can start making the change I want to see in this world," Gaye said.
'Home away from home'
With SUNY Oswego, Gaye already has been working toward a positive change in positions that also include director of correspondence for the African Student Organization as well as representing EOP as an academic success coach and EOP Conference Day presenter/ranelist.

EOP is like a "home away from home" to her and to other students in the program, Gaye said -- anything from making sure students are eating to having a computer they can use to helping first-generation students like her navigate college life.
"It shows us we're not alone," Gaye said. "Just having the EOP family there at all times means a lot, and I don't know what I would do without them."
McConney was among the architects of the statewide Educational Opportunity Program and a tireless champion of youth empowerment. The award honors EOP students who have overcome significant obstacles in their lives to achieve their educational and personal goals. The online ceremony took place in December.
"Each of these students has a story that deserves to be heard; they are outstanding scholars who have displayed great strength and tenacity in their pursuit of academic success, amid what is often extreme personal hardships," said SUNY Chancellor Jim Malatras. "It is for them that SUNY's Educational Opportunity Program exists, and it is at the heart of our mission to level the playing field and give every student a fair chance to succeed. My congratulations to our honorees for earning this recognition as they prepare to graduate and start to change the world."
As for Gaye, her advice to students is that they work past any perceived limitations to make the world a better place.
"Nothing is really impossible if you put your mind to it," Gaye said. "Just do it. Don't have any second thoughts about it. I tend to take on a lot because I don't want to live with regrets."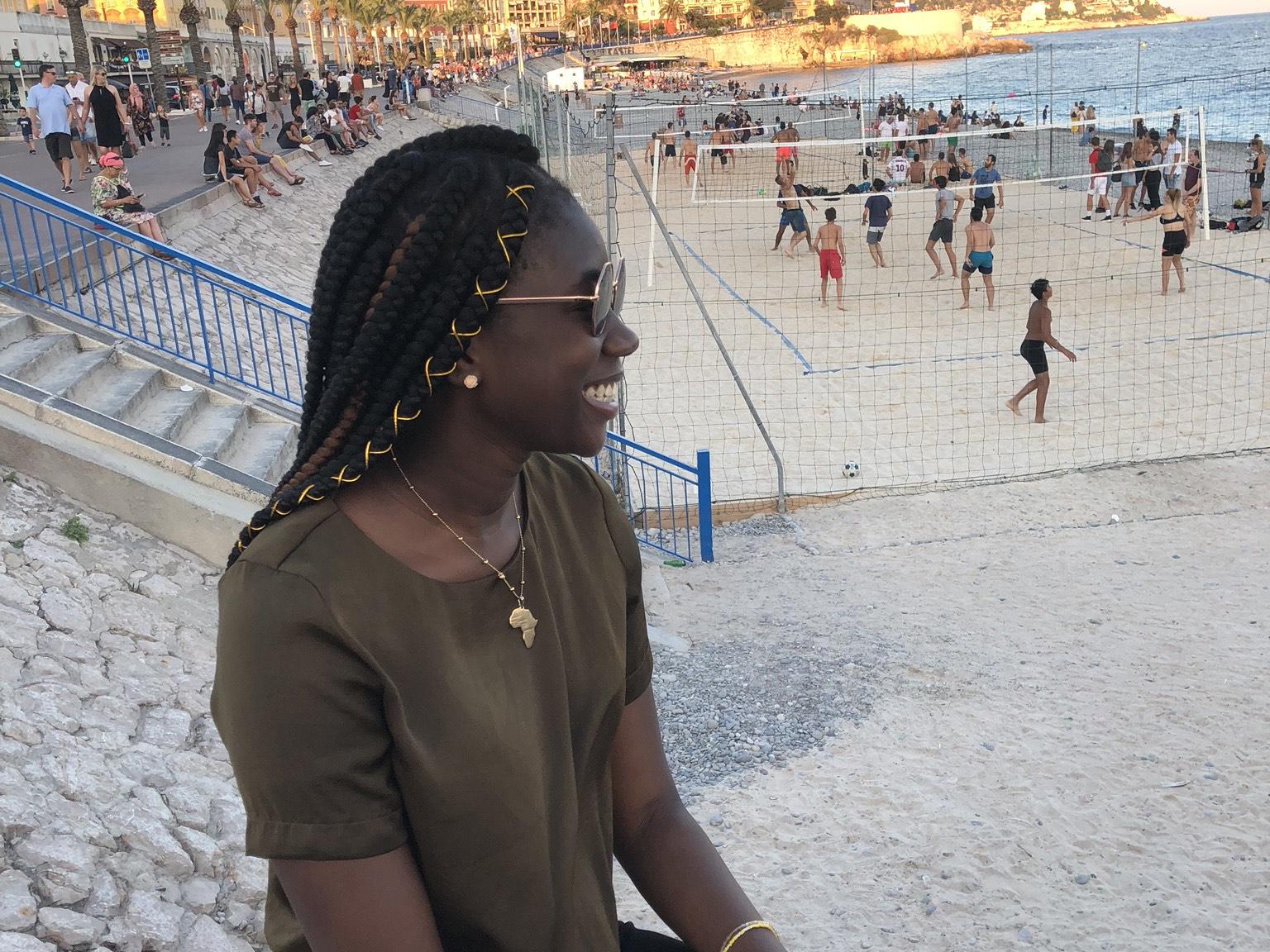 Exploring opportunities -- A recent recipient of the statewide Norman R. McConney Jr. Award for Student Excellence, wellness management major and future medical professional Fadi Gaye pursued a study-abroad opportunity in Benin, West Africa, and in France (pictured, in January 2020), one of many ways she has maximized her Oswego education.
Facebook comments