Physics professor Carolina Ilie continued a winning collaboration in working with former students to publish "Classical Mechanics: Problems and Solutions" – a textbook to help faculty members and students studying this field of physics.
The recent publication is the third in a series, following "Electromagnetism: Problems and Solutions" and "Electrodynamics: Problems and Solutions." Published by CRC Press - Taylor and Francis Group (an Informa Business), the book is already in stores around the world and available to support physics classes.
This project continued the previous books' collaboration with SUNY Oswego alumni Zac Schrecengost – now a Ph.D. physics student at Syracuse University – and illustrator Julia D'Rozario, who earned a Ph.D. in microsystem engineering from the Rochester Institute of Technology and is now a display electrical engineer at Meta. 
"After publishing the two books on electromagnetism and electrodynamics with Zac Schrecengost, we moved to classical mechanics, because I have been teaching this upper-level course for the last 14 years," Ilie said. "Zac and I started the work before COVID, but during COVID, we were overwhelmed by working at home, and the lack of separation between home and work did not allow for the best creative process." 
So they invited Elina van Kempen, a SUNY Oswego senior physics major at that time with "impressive mathematical skills" to help with the project, Ilie said. Since then, Van Kempen has continued into a Ph.D. program in computer science at the University of California, Irvine. 
The books' illustrator, D'Rozario "was extraordinary in delivering all the illustrations" while finishing her Ph.D, and then moving into her professional position, Ilie added. 
'Special journey'
"Writing a book is a special journey which requires great focus and determination," Ilie said. "There is a need for books of problems in classical mechanics at upper-level undergraduate, and lower-level graduate. The typical books are either at lower level, calculus-based physics, or at much higher level, for graduate students in physics."
"From my time in graduate school and in industry, the importance of computational problems was particularly on my mind," Schrecengost recalled. "It seems to me that students should be exposed to these types of problems as early in their physics journey as possible."
The process reaffirmed "a certain beauty in mechanics problems such as these," Schrecengost added. "As a student, this was such an interesting 'discovery' that I hope other students have as well."
"During the writing process, my priority was to create problems that allow students to easily comprehend concepts," Van Kempen noted. "It was challenging to find problems that illustrate well a specific classical mechanics idea, and that are clear and helpful to students."
For Van Kempen, writing the book while on the academic journey from finishing her Oswego degree and then moving across the country for doctoral work taught lessons beyond any classroom.
"To be on the other side of the learning/teaching was extremely interesting," Van Kempen said. "Writing a book is very demanding and intensive work, as both an impeccable presentation and a logical explanation of the problems are needed."
Oswego's opportunities
In addition, Van Kempen said the Oswego experiences laid the foundation for this tall task. "While at SUNY Oswego I had the opportunity, thanks to Dr. Ilie, to present research projects at several conferences," Van Kempen said. "These prepared me to the excellence required by the writing of a physics book, and benefitted my Ph.D. application through the development of rigorous communication skills."
"The most important thing is for students to have this experience," Ilie said. "This is a very unique experience and I'm proud to be a member of SUNY Oswego providing this opportunity. Getting a paper published as an undergraduate is great, and this is ever better."
Throughout the process, Ilie realized her former students comprised a great team for the project.
"It was great dynamics, because we were very well organized and we divided the work in three," Ilie explained. "Each of us created problems, all of us verified the others' solutions, we created the figures by hand and then sent them to Julia, who created the illustrations."
Ilie's oldest son, Victor, even volunteered to help with the finishing touches.
Ilie loved the opportunity to work with students and provide them with such a noteworthy accomplishment – the third book for Schrecengost and D'Rozario, and a first for Van Kempen.
"Writing a book is very special, and only the people who published a book can fully understand the intense commitment and joy involved in this process," Ilie said. "I believe this is a beautiful, creative experience, and I wish that more of my colleagues will embark on it with their students. It is really rewarding! SUNY Oswego is one of the universities where the students can create and accomplish great projects, including book writing."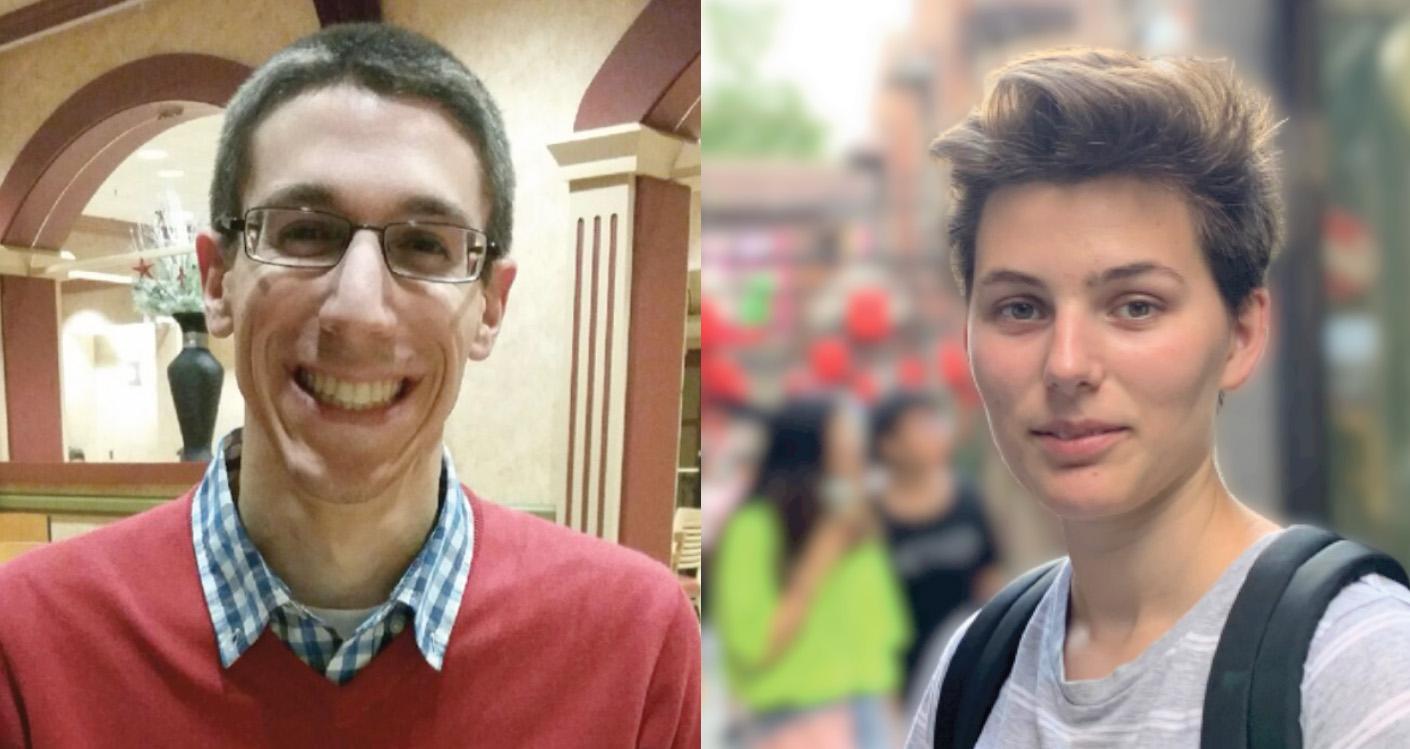 SUNY Oswego alumni Zac Schrecengost and Elina van Kempen co-authored the latest book by their former teacher and mentor Carolina Ilie of physics.
Facebook comments