SUNY Oswego adjunct instructors Carlo Cuccaro in counseling and psychological services and Christine Motto of English and creative writing are 2015 recipients of the Provost's Award for Teaching Excellence by Part-Time Faculty.
Carlo Cuccaro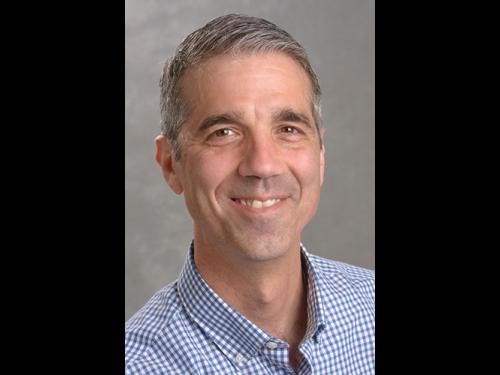 In a letter recommending Cuccaro, Michael LeBlanc, chair of counseling and psychological services in Oswego's School of Education, said the longtime school psychologist at Lanigan Elementary School in Fulton "embodies the ideals" of this honor.
"His teaching is excellent and well received, his use of advanced technology and creative teaching techniques surpasses many of our full-time faculty, and he is well respected by both students and faculty as demonstrated by his evaluations and service to the CPS Department of SUNY Oswego," LeBlanc wrote.
An adjunct instructor here for 20 years, Cuccaro earned both a master's degree and a certificate of advanced studies in counseling and psychological services at Oswego. He has taught "Educational Handicapping Conditions and Learning Disabilities," "Foundations of Educational and Psychological Appraisal," "Research Methods for Classroom Teachers," "Professional Problems in School Psychology," and numerous others both inside and outside his department.
"I love teaching," Cuccaro wrote in a statement of his teaching philosophy. "I feel energized trying to engage a group of people in a meaningful way over a given topic. I thrive on the laughter, head nods and smiles of students."
When he first became a teacher, Cuccaro developed a "do not do" list that served as the foundation for his career as an instructor, including do not test on things that are never discussed in class, do not stand behind a podium for the entire class and do not allow students to totally "check out" in class.
Cuccaro wrote that he has supplemented his early list with a set of practices and beliefs to guide his teaching. "I feel an immense responsibility to be prepared, respectful, engaging, professional and knowledgeable," he said. "Ultimately, I want to challenge students to think about their own learning far beyond the grade they earn in class."
The nomination noted Cuccaro connects very well with students, who routinely give him among the highest possible evaluation scores and praise. "He is always concerned with his students' perception of their learning and competence," student Megan Furman wrote in a supporting letter. "If his students doubt themselves, he is willing to support them in any way and provide opportunities to work on their skills."
Author of several research articles in peer-reviewed journals, Cuccaro received the 2004 Frank Plumeau School Psychologist of the Year Award from the New York Association of School Psychologists.
Christine Motto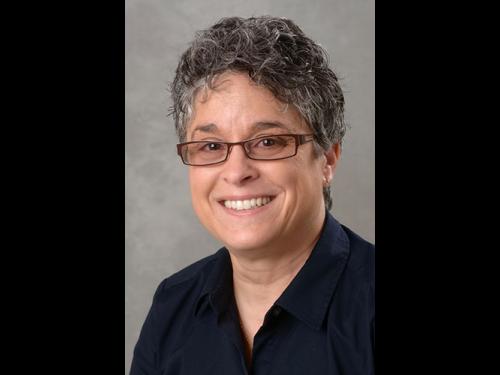 Director of creative writing Leigh Wilson said Motto, a part-time faculty member at SUNY Oswego since 1999, "has contributed in countless ways" to the success of students, faculty and the writing program.
"Anyone passing Professor Motto's office or classrooms can hear the buzz of student discussion, often punctuated by laughter—she distributes joy to her students as much as she distributes the self-discipline and skills young writers need," Wilson wrote in nominating Motto for the teaching-excellence award.
Motto, a 1989 alumna of what was then the English/writing arts program at SUNY Oswego, also has taught poetry writing, composition and courses with a service learning component, as well as participating in the college's summer intensive English program. She pursues a writing career—including fiction and poetry publications in national journals and a novel and poetry collection among current submissions to publishers—and has done readings around the region.
Students such as senior creative writing major Ryan Greenfield, who submitted an additional letter of nomination, respond to Motto's teaching style. "Laying the foundations of skills, Professor Motto works with her students to develop strength in their abilities," Greenfield wrote. "She uses humorous anecdotes to create a fun and comfortable learning environment for all."
In an indication of the rigor of her classes, another student wrote in an end-of-semester evaluation, "I honestly loved the class. We had a great class dynamic and I always enjoyed coming to class. Not a class for the faint of heart."
Motto wrote of her teaching philosophy that she starts each semester with a quote from Roald Dahl stating the essence of good writing is rewriting. "Overall, I strive to find a common ground where the students and I can begin, and a common vision that invites students to challenge themselves and me," she wrote. Her objective, she wrote, is "to teach students not to settle for mediocrity, and ultimately gain confidence to communicate effectively in a competitive world."
A creative-writing judge the past two years for the GENIUS Olympiad, Motto also has participated frequently as an honors thesis adviser at Oswego. She has a master of fine arts degree from George Mason University and has taught there and at American University, Syracuse University, Jefferson Community College and Cayuga Community College.
Facebook comments