Through the power of his platform centered around mental health, student-athlete and recent SUNY Oswego graduate Caleb Munski hopes to empower peers through his podcast and other avenues to become comfortable sharing their stories.
Raised in Liverpool in a middle-class, blue-collar family, Munski grew up playing soccer.
"I was playing soccer straight out the womb," said Munski. "At age three and a half, I was playing up with my older brothers."
He continued playing into high school and committed to SUNY Oswego during his senior year. The school provided Munski a balance between academics and a prominent men's soccer team role. Munski earned his master of business administration degree in May 2023 following a bachelor's in business administration in May 2022.
Although soccer was his primary focus entering his first year, it also would be the reason he found his calling in life.
Last year during a practice session, Munski noticed something wrong. He was zoning out and struggling to complete basic conditioning drills. It got so unbearable that his chest tightened, and he could not move.
"I hadn't eaten much that day; I'd been stressed," said Munski. "I was zoning out, seeing white; that's not abnormal for me because I'd been used to it."
Pushing through practice, his breathing was impacted, and his anxiety grew worse. As practice concluded, team trainers rushed to the field, allowing him to calm down before delivering the news: Munski experienced a panic attack.
Upset by the diagnosis, Munski became disappointed with himself and uneasy that his teammates had witnessed this episode.
Knowing to seek help
With a renewed focus, Munski knew it was time to seek help and care for his mental needs.
"I got to do something about this, and I got to show my team that it's okay to do something about this," said Munski.
Munski sought the guidance of a counselor and soon encouraged his teammates to do the same. Although soccer was the primary focus entering Oswego, the sport led to a turning point in his life.
"That was an important time in my life that really changed the trajectory of what I'm supposed to be doing and what I believe," he said.
Munski became a regular advocate for mental wellness issues, and created the Make Mental Podcast after being encouraged by friends to share his story.
The Make Mental Podcast sheds light on mental health from the perspective of those willing to share their experiences.
The platform "allows me to share my story, but, more importantly, allows others to share theirs," said Munski.
Interacting with guests and developing episodes is the highlight of his day. The platform helps him further educate himself on mental well-being. 
The platform has also exposed Munski to new opportunities. In April, Munski was invited to speak at the NCAA Inclusion Forum in Indiana about his efforts and the importance of sharing stories about mental health.
Finally, the Make Mental Podcast helped Caleb grasp the power of storytelling and authenticity. He hopes through his efforts, he can continue empowering peers to explore resources and create methods to better their well-being.
"If you are thinking about sharing your story, then do it," Munski said. "If you're thinking about getting help, take that first step."
Importance of self-care
When asked how he defined mental health, Munski used one word: Individualistic.
"Everyone's story is different, but we're a collective at the same time," said Munski.
Munski has credited different self-care methods with improving his well-being. 
The mindfulness app on Apple Watch has been a helpful tool. The app includes a minute-long breathing exercise that helps him regain his composure when overwhelmed.
Caleb also credits Michael Losak, a former baseball pitcher at SUNY Oneonta. He befriended Losak after hearing his story, which ultimately resonated with Munski.
He also plans out his day by dedicating essential tasks during the morning, leaving the afternoon to focus on hobbies like soccer or the Make Mental Podcast. 
Ultimately, he listens to his body and puts his best effort into every task.
"I know every day when I wake up, I'm going to give it my 100 percent," Munski said.
To listen to the Make Mental Podcast, visit the Instagram page @makementalpod and/or learn more via the podcast's Linktree site: https://linktr.ee/makementalpodcast.

For more information about campus mental health resources, visit the Counseling Services Center website.
 -- Written by Andy Guity of the Class of 2023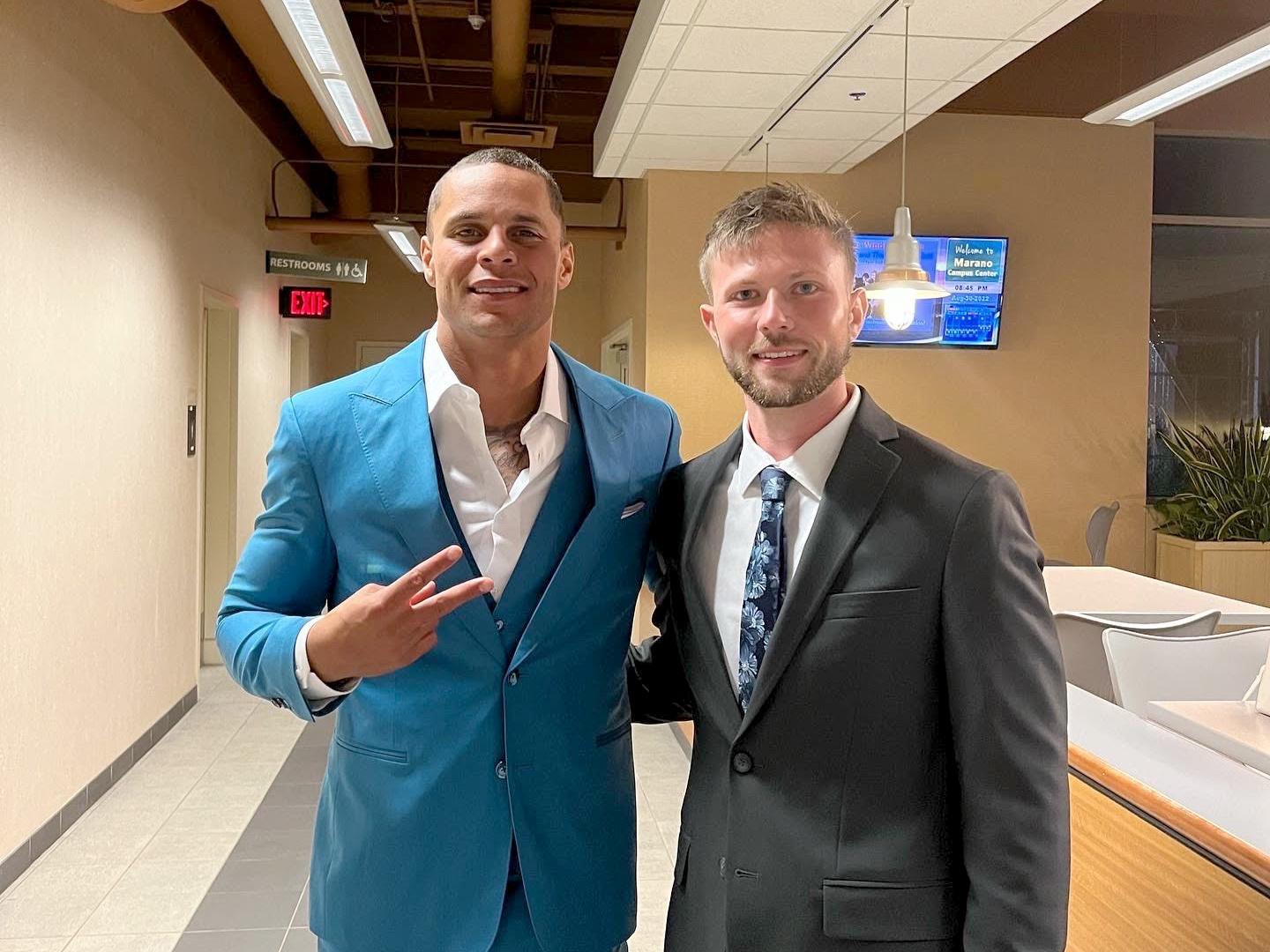 When star NFL player Jordan Poyer (left) of the Buffalo Bills visited campus to discuss the importance of having conversations around mental health, Caleb Munski had the opportunity to introduce him for a very well-attended talk. (Photo provided by Caleb Munski)
Facebook comments