Producing a play is not easy -- not for professionals, nor for busy college students and definitely not since the pandemic began. Yet the cast and crew of SUNY Oswego's Blackfriars Student Production of "Dog Sees God: Confessions of a Teenage Blockhead," opening March 19, have leaned on creativity and collaboration to bring this to the virtual stage.
Student-led productions can provide extremely valuable experience to its participants, especially those who wish to break into fields like directing and acting after graduation, and these plays typically incorporate as many students as possible -- now with safety as part of the equation.
"This production has been a great opportunity for me," said senior theatre major Giovanni Ayala-Martinez, who directs the show, which is an unofficial sequel to "Peanuts" where the characters have grown up and explore life.
"It's pretty much taught me how to build a show, while working with a fully-funded" production, Ayala-Martinez said. "It really taught me how to make my vision come to reality, and I think it's going to help me in my future adventures, whether it be film, TV or theater."
Shy Sims, who plays Marcy in the show and serves as its cartoonist, notes that the team effort makes the learning experience special.
"It's your peers, so you know that if you're really having a problem you can step up and talk to them," said Sims, a sophomore theatre major. "We're all learning… it's okay for you to mess up and feel okay, because everyone's learning in that same environment with you."
Numerous restrictions due to the COVID-19 pandemic provided more hurdles than during a typical year.
"We have been completely rehearsing on Zoom," Ayala-Martinez said. "We just moved into the theater space recently, so we're all in separate rooms. There's a lot of COVID protocols we have to follow… It's very different than a normal theater show, and it's been extremely challenging."
Sims also said that Zoom rehearsals could be tricky at first.
"Sometimes, we'll have audio problems, sometimes the internet … would just drop, and then it's hard to understand what's going on," Sims said. "And then sometimes our eyes just hurt from staring at a screen for so long."
Despite these challenges, Sims said that the cast has done a good job of battling these issues.
"Communication-wise, I think we've all overcome it," Sims said. "I think it's challenging at first, but since it's been so long, we've been doing this for about three months now, I think it's almost become the norm. But it's still a bit wonky."
Animated touches
Besides virtual rehearsals, the pandemic has also affected how the show will proceed. Since actors cannot physically be in close proximity, the production uses Sims' cartoons for numerous scenes throughout.
"They wanted people to be able to physically touch for some of the more intimate scenes," Sims said, describing the cartoon scenes as, "like an animatic, but storyboarded." These animatic scenes can also help bridge the gap between the show's serious moments and its lighthearted scenes.
"With Western animation and cartoons, you can stay dark, but you can always jump out of that and it never feels awkward," Sims said.
Sims also assisted the production by designing backgrounds for different characters and scenes.
"Since we all are in different backgrounds, we'll actually be having green screens," Sims said. "I drew backgrounds for everyone to be in, so it would be more consistent that way."
Sims also emphasized the added creativity that the cartoons can contribute, saying "the possibilities are endless. Theater is already a spectacle. But, you're limited to what you can do in real life, but with animation you can just take that and run with it."
While putting together this production is a unique and challenging experience, Ayala-Martinez, along with the cast and crew, were not about to shy away from the challenge that this semester has presented.
"I kind of rolled with the punches, and made the best of a worst-case scenario," Ayala-Martinez said. "I'm really excited, because this is more than just theater. It's kind of a multimedia piece, and the audience will see that."
The show is intended for mature audiences only and contains many intense themes. According to the show's website, the production deals with "frank discussion of LGBTQIA+ identity, eating disorders, depression, mental health, extreme examples of verbal homophobia and suicide."
The show will feature a 7:30 p.m. opening night on Friday, March 19, with showtimes of 2 and 7:30 p.m. on both Saturday and Sunday, March 20 and 21. 
"Dog Sees God" is free to view, but tickets must be acquired from the SUNY Oswego box office in advance via tickets.oswego.edu. 
-- Story by Dylan McGlynn of the Class of 2021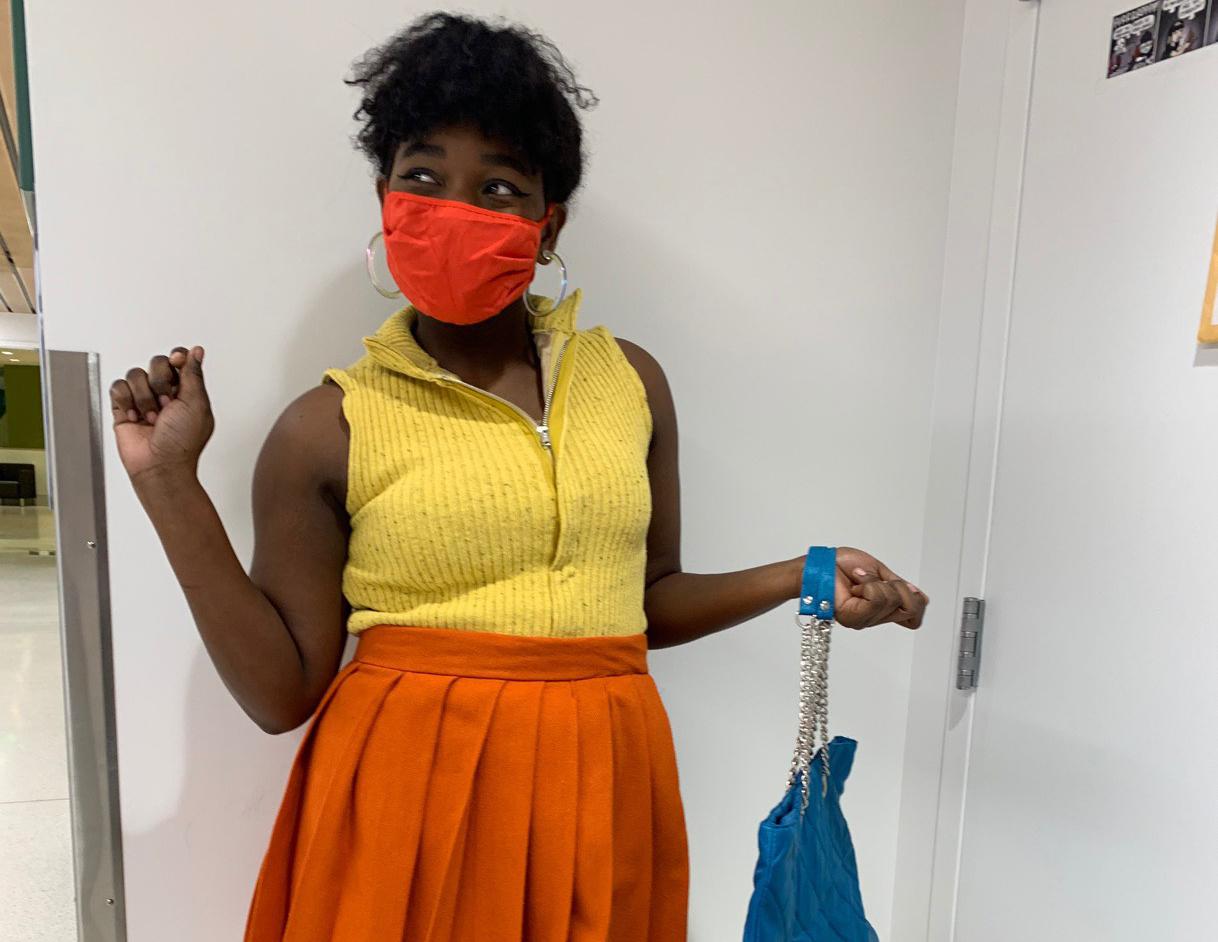 Preparing for production -- Sophomore theatre major Shy Sims, dressed as Marcy for the Blackfriars Student Production of "Dog Sees God," also provided animatic elements for the production, which opens March 18 for four days of virtual performances.
Facebook comments