Alumni of SUNY Oswego's nationally-recognized MBA programs are using their degrees to pursue careers in a range of fields, and the program recently earned attention through USA Today.
In the March 9 Women In Business supplement of USA Today, SUNY Oswego's MBA programs are featured through a Q&A with expected 2018 MBA graduate Micaela Dobereiner. Dobereiner speaks of her connections to faculty and opportunities Oswego has provided to prepare her for the future.
Dobereiner, who took advantage of the five-year MBA program, represents both current students and the more than 680 alumni who have graduated with an MBA from Oswego. The MBA program first was introduced at Oswego in 1997; it was also the first MBA program offered by a comprehensive college in the SUNY system.
Today, the degree encompasses health services administration, management and public accounting, with a variety of graduate programs and five-year options that combine an MBA with such bachelor's degrees as broadcasting, psychology and public accounting.
Irene Scruton, director of MBA programs for SUNY Oswego's School of Business, said Oswego's MBA degree is a globally recognized credential for working professionals and new graduates interested in moving into leadership roles.
Earning promotions
In the last career survey of MBAs, 32 percent of students were promoted while in the MBA program, Scruton said. Another 20 percent of students were promoted either at their current employer or in a new position after earning the degree.

"I always wanted to get my MBA, and with the MBA in health services administration, it combines two of my passions — business and healthcare," said Michelle Kuss Vielhauer, a registered nurse who enhanced her nursing degree with an MBA, and is now the director of healthcare improvement for Excellus BlueCross BlueShield in Syracuse. She earned her MBA in 2014 after a 1998 bachelor's at Oswego.
And along with the SUNY Oswego diploma comes the accolades that have brought national attention to the program: U.S. News placed Oswego No. 5 nationally on its Short List of MBA programs with the highest percentage of women in 2017; SUNY Oswego was the only public college in New York to crack the U.S. News & World Report's 2018 list of top 100 online graduate business programs, and it leads all New York state colleges and universities on the list.
"I was given unique opportunities at SUNY Oswego, which led to an immediate job opportunity after graduation," said 2013 MBA graduate Sean Sharp, a senior audit associate at one of the "big four" auditing firms, KPMG LLP, who took advantage of the five-year program.
The same five-year program's opportunities also benefited Charlene Assam, who landed in New York City as a core assurance associate at PricewaterhouseCoopers, a long way from her native country of Cameroon. While she was a student, Assam performed three internships -- one in her native country -- with her eventual employer.
Hands-on learning
"I think it's much more effective when you see how what you're learning is applicable in the real world," Assam said. And, the 2017 MBA graduate added, SUNY Oswego's commitment to women in the program is invigorating.

"The fact that we have so many women in our program is amazing," Assam said of Oswego's MBA program enrollment of nearly 53 percent women. "It's a good representation because it makes me definitely feel like I belong here."
For Richard Rosenfeld, a distinguished professor, physician and chair of otolaryngology at SUNY Downstate Medical Center in Brooklyn who already had a master's degree in public health along with an MD when he joined the Oswego MBA program, the degree supports the next step in his career -- executive leadership of a healthcare organization in the higher education or nonprofit sectors. For that, the expected May 2018 MBA graduate felt he needed to turn to other experts, to "codify my, sort of, street knowledge over 25 years."
Erison Rodriguez, a 2009 MBA graduate, attributes his current position as director of regional sales and marketing at ProAct Inc. to a Festa Fellowship, which first placed him with the unit's parent company Kinney Drugs during his master's work. Without the fellowship, "I probably never would have had the opportunity to even have exposure to ProAct or Kinney Drugs," he recalled. "It gave me an opportunity to really establish a relationship and create a rapport with my bosses."
The value of an Oswego MBA has also attracted partnerships with top companies: In 2017, 21 SRC Syracuse employees graduated with MBAs from the college.
Well established as a leader in innovative radar technology, SRC was looking for an opportunity to allow its engineers to grow by empowering them with management and leadership skills.
"We're willing to put our money where our mouth is by paying 100-percent tuition; we're going to try and make it as easy as possible," said Jim Holland, SRC's executive vice president of enterprise services and a 1982 SUNY Oswego graduate.
It's a combination of factors that have placed SUNY Oswego's programs on the national stage, according to Scruton.
"SUNY Oswego's MBA is recognized nationally for combining a customized program experience with high-quality, accredited faculty and curriculum to best prepare our students," Scruton said.
For more information on Oswego's MBA programs, visit https://www.oswego.edu/mba or email mba@oswego.edu.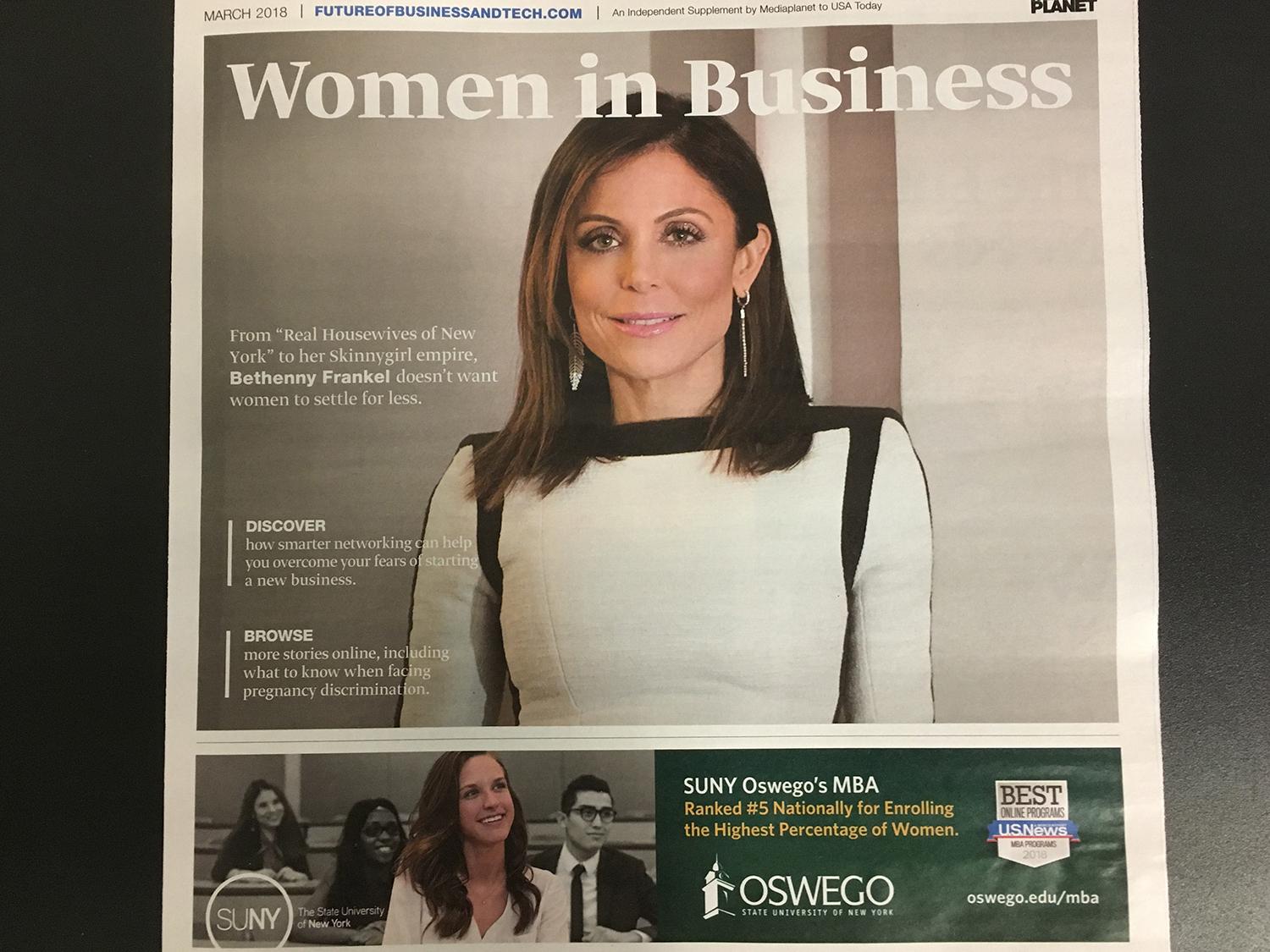 Cover women -- SUNY Oswego's MBA program and expected May graduate Micaela Dobereiner shares the cover of the March 9 USA Today Women in Business supplement with entrepreneur, author and television personality Bethenny Frankel.
Facebook comments