Damian Schofield, director of SUNY Oswego's graduate program in human-computer interaction (HCI), has earned the 2019 President's Award for Scholarly and Creative Activity at the college, while composer Paul Leary of the music department received the Provost's Award for Scholarly and Creative Activity.
The President's Award honors tenured faculty for exemplary mastery of subject matter, effectiveness in teaching, and scholarly and creative achievements; the Provost's Award similarly honors a junior faculty member. Awards will be formally presented at the Fall Academic Affairs Retreat.
Collaborative, innovative
Dozens of letters recommending Schofield for the President's Award rolled in from current students, HCI graduates with jobs across diverse industries, research colleagues as far-flung as Australia and England, a variety of fellow faculty members, and a local artist involved in an augmented-reality study by one of the many students Schofield has mentored.
The letter writers cited, among other hallmarks, Schofield's constant availability to students, collaborative and innovative research that often involves students in Oswego and abroad, and voluminous publications in peer-reviewed journals during a rich academic life -- flavored with his enthusiasm and fun-loving nature -- on three continents.
Schofield, who has a Ph.D. in artificial intelligence from the University of Nottingham in the United Kingdom, has published on scores of projects focused on exploring how people experience and interact with technologies from robots to virtual reality, from phone apps to 3D reconstructions -- reflective of HCI's strong emphasis on user experience and user interface design.
Far beyond the quantity of Schofield's research, his recommenders say, the diversity of his projects signals an innovative spirit and a willingness to work with research partners in disciplines that breathe "trans-humanity" into one of his central passions: transhumanism, the philosophy that technological and scientific advances necessitate that "the human species in its current form does not represent the end of our development but rather a comparatively early phase" that will continue to evolve.
Some examples of Schofield's often-collaborative scholarly academic and commercial projects: facial reconstruction of a mummy thought to be Queen Nefertiti, videos starring Python-scripted robots and verbally scripted students from Oswego and Australia, technology integration projects in Oswego County schools, and, germane to his role as an expert witness in court, 3D simulations to visualize major disasters, virtual reality-based crimes scenes for law enforcement training, road traffic accident reconstruction and calculating blood spatter distribution.
Students wrote that the cross-disciplinary graduate program Schofield has rebuilt since his arrival here in 2009 -- along with his mentorship of projects, his co-publications with them in professional journals and his active post-degree follow-up with them -- have changed the course of their lives and led them to jobs.
"I wanted to focus on corporate software and its impact on employee productivity," wrote Stephen Aschkenes, who earned his master's in HCI in 2016. "Damian was always so flexible in allowing me to tailor the program to fit those needs … these papers were THE reason I ended up getting my first job out of school, which was to help roll out a 3D virtualization for a fashion company."
Ryan Kikta was an adult student and a military veteran when he came to HCI with experience in aircraft electronics, the gaming industry and industrial farm management. "After a sound and thorough education in best practices, I was able to branch into Damian's impressive global network," wrote Kikta, a 2016 graduate. "I researched for three months in partnership with the University of Granada (in Spain) for my final project. From that interaction, I gained an enduring relationship with a region of the world I have come to love."
Kikta now lives in southern Spain three months a year and has developed his passion for the preservation of history in digital form, working on projects such as software development to curate the Alhambra -- a UNESCO world heritage site -- as well as Jewish history in that region of Spain. "All of these things have become possible to achieve for myself and a larger world because of Damian and the excellent team that work with him," Kikta wrote.
Marcia Burrell, chair of curriculum and instruction in the School of Education, praised Schofield for his seven years of involvement with Project SMART in area schools, working with K-12 teachers in their classes to build content knowledge through the integration of technology to make real-world connections for students.
"Often, it takes years for college faculty to enter a school and make progress," she wrote. "Damian showed progress immediately."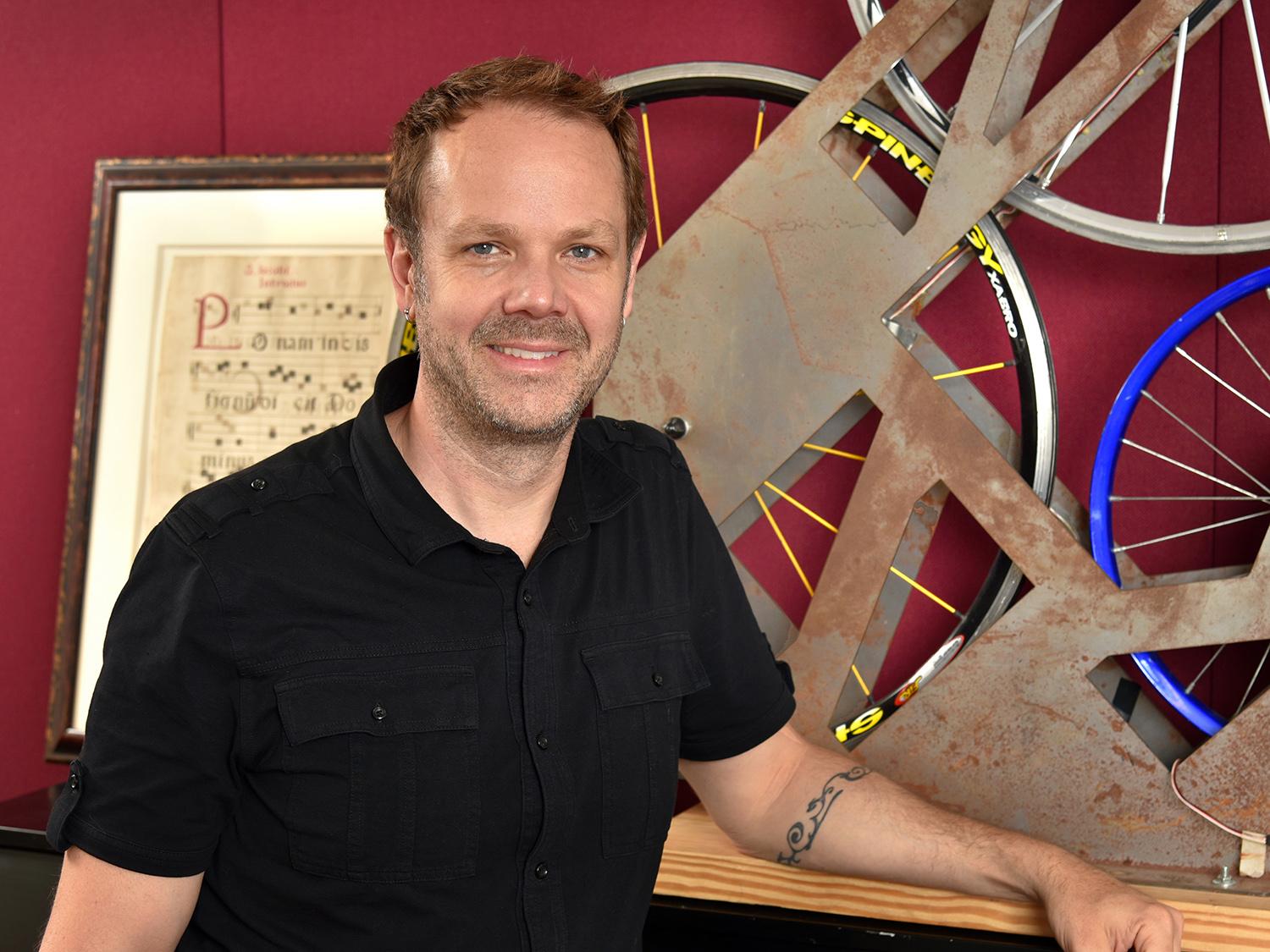 Composing creativity -- Paul Leary, a member of the SUNY Oswego music faculty, has earned the 2019 Provost's Award for Scholarly and Creative Activity at the college.
'Singularly gifted'
Nominating Paul Leary for the Provost's Award, music faculty colleague Eric Schmitz, wrote, "Paul is a singularly gifted composer whose music for a variety of ensembles (often including electronic elements) is performed widely on a regular basis. He is frequently commissioned to write new works and his music has been featured in performances across the nation, including at Carnegie Hall (2014)."
Leary may be best known regionally for the performance this winter of his multimedia composition "Larger Than Us" at Syracuse's Museum of Science and Technology in honor of the Apollo 8 space mission to orbit the moon. Commissioned by the Society for New Music, the performance features video on a large screen with more than 1,400 NASA images, many of which Leary programmed to move in time to his other-worldly composition, played by a six-piece ensemble. They are accompanied by a nine-foot pendulum -- one of several electronic devices Leary has devised -- that uses an accelerometer and a magnetometer to send data back to a computer, electronically changing the pitches and tempos of traditionally produced music. 
"Paul Leary is one of the most active and creative composers of his generation," wrote Neva Pilgrim, program advisor for the Society for New Music, in support of his nomination for the award. "Not every composer is savvy about electronics, nor would they take the time to develop computer programs to realize those ideas."
Composer of several dozen works performed in venues from Leighton Elementary School in Oswego to Duke University -- where he earned a doctorate in composition -- Leary's influence had spread prior to "Larger Than Us."
Alice Dailey, an associate professor of English at Villanova University who heard his music at a Duke concert, wrote that she includes works such as Leary's "Perfume" for piano, electronics and video, a celebration of the life and music of the late Kurt Cobain, in her core literature and writing course, titled "Aliens, Freaks, Norms and Others."
"Dr. Leary's fascinating work engages multiple types of alienation: the stories of people who believe themselves to be sites of paranormal or extraterrestrial activity; the social and emotional alienation described by tragic figures like Kurt Cobain; and the alienness of contemporary media itself, such as in "Number Stations'" study of mysterious radio signals," Dailey wrote. "My students are always excited to be exposed to Dr. Leary's work, which expands our class discussions into realms that are not addressed by other components of the syllabus."
Robert Auler, chair of SUNY Oswego's music department and a frequent collaborator on piano as Leary plays the Japanese flute, strongly supported Leary's nomination.
"Dr. Leary is a classical music composer, but his composition is uniquely informed by his love, immersion and great command of music technology," Auler wrote.
"One of my favorite things about Dr. Leary's work is how it transcends the pop idiom and the art music realms," Auler noted. "Of special note is that Dr. Leary's (excellent) music for an online video game ('Eve') has surpassed 250,000 views on YouTube; he is adroit in the fields of electronic dance music (EDM) and more avant-garde electronics; he serves as a wonderful entry point for our students' creative output, having overseen the founding of the Digital Music Association, a student-led group that produces concerts each semester of hip-hop and EDM compositions."
Schmitz said SUNY Oswego is "extremely fortunate to have a composer of Paul's caliber," later adding, "… I believe his creative activity and involvement of students far surpasses the expectations of not only our department, but the college."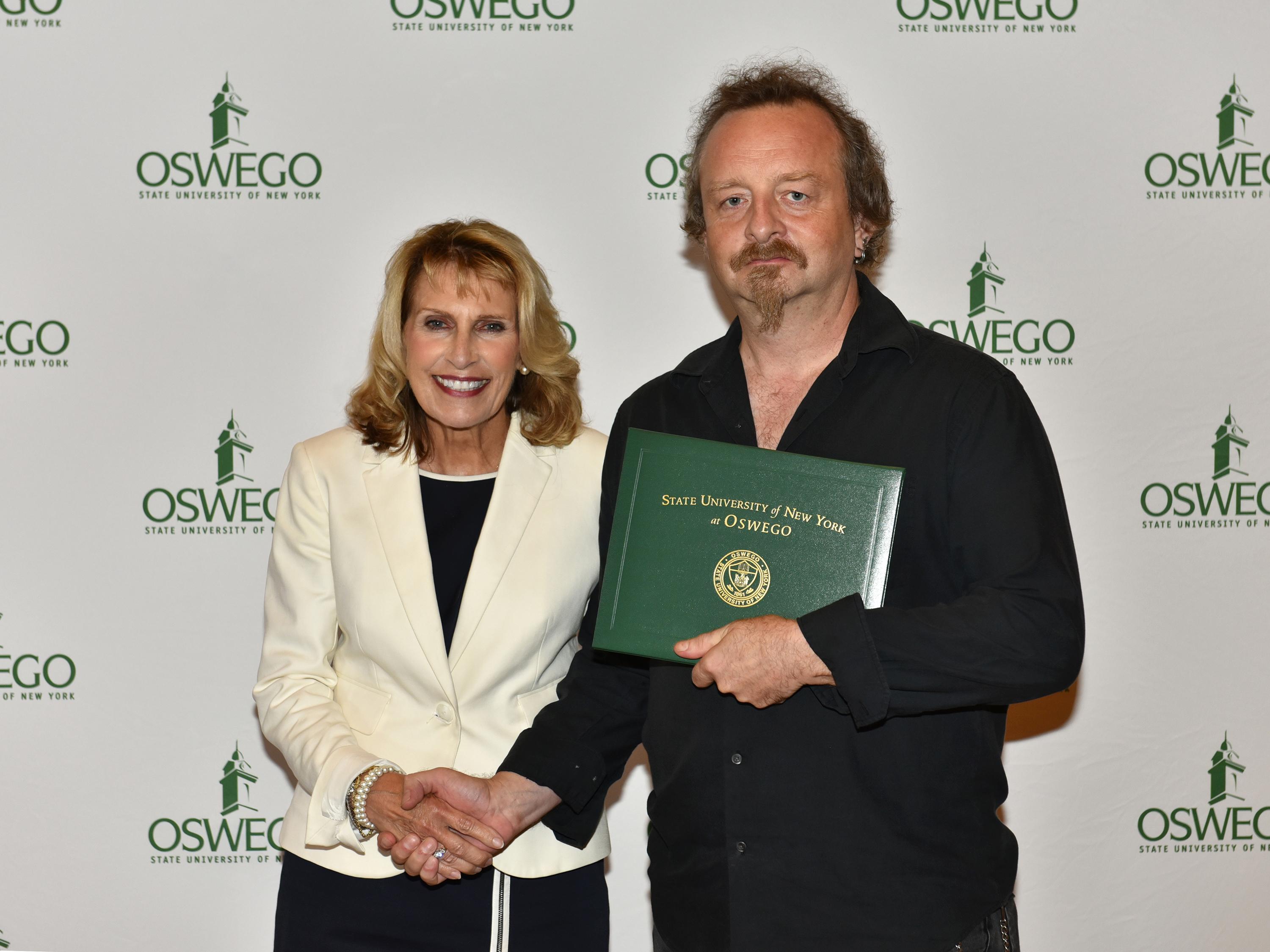 President Deborah F. Stanley congratulates Damian Schofield.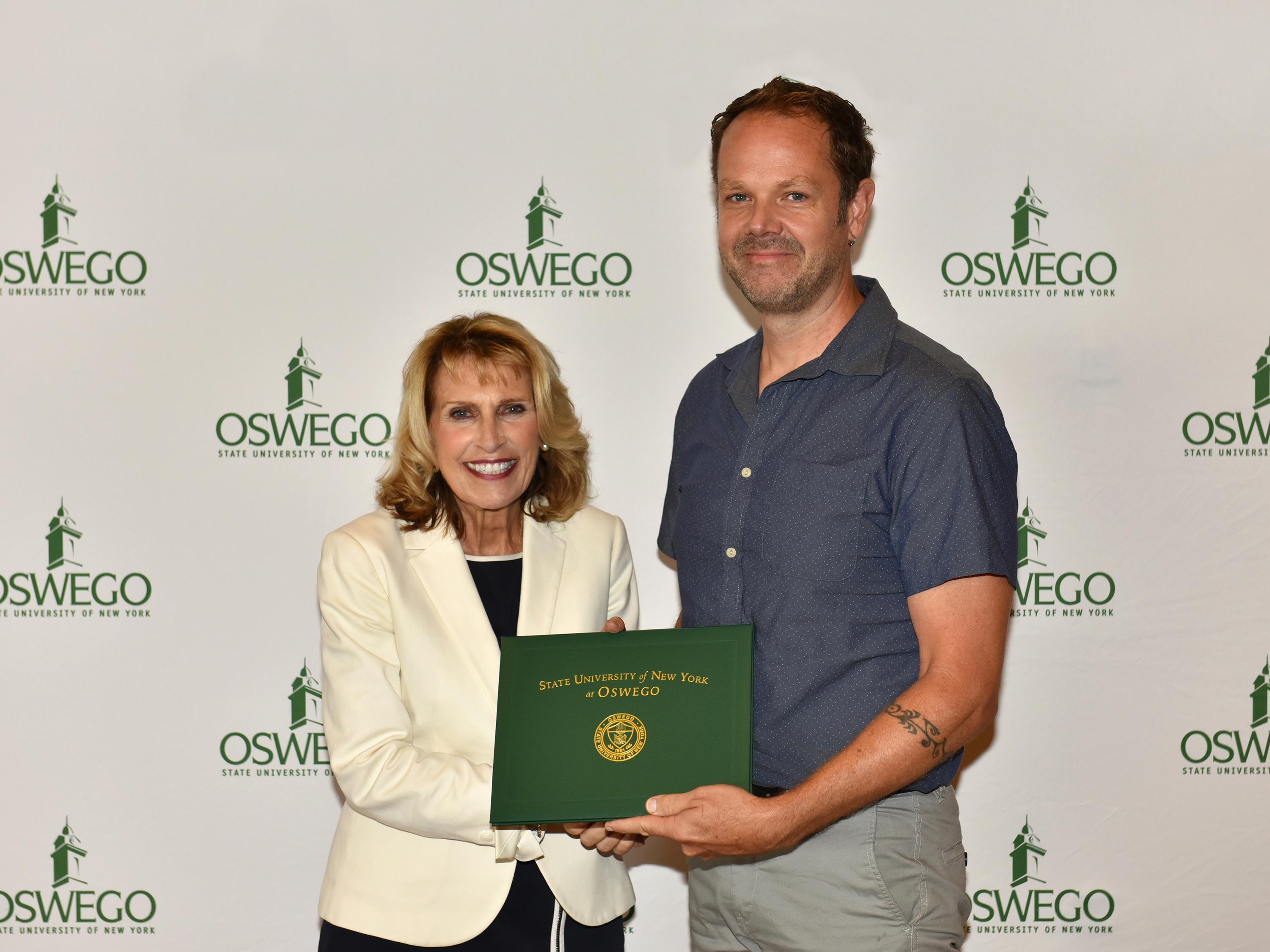 President Deborah F. Stanley congratulates Paul Leary.
Facebook comments